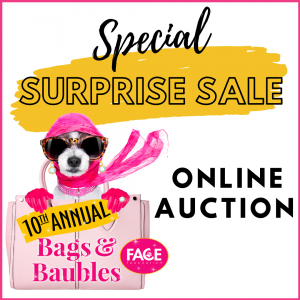 Shop & support FACE's life-saving programs from the comfort of your own home at FACE's Special Bags & Baubles online surprise sale on April 17th – 19th, 2020.
Anyone who is registered for our September Bags & Baubles event will have access to this special online sale.  If you can't make it to the September event and you still want to shop online, purchase a ticket and you'll be registered for this event. Your ticket fee will go directly to the animals.
For more information about this event, visit https://events.readysetauction.com/face/onlineauction
Questions? Contact us at 858-337-0452 or [email protected].