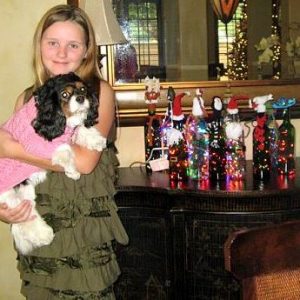 An Amazing Young Girl Helps Save the Lives of Family Pets in San Diego
The average twelve year old might be caught spending their free time surfing the web, watching movies with friends, or spending their days in the sun, but Maranda Phillips is not your average twelve year old. Maranda, a resident of Rancho Santa Fe, chooses to utilize her spare time to help save local family pets. The results of her efforts are truly inspirational.
This is Marandaís fourth year donating to an animal charity, and her second year supporting the FACE Foundation. Four years ago, she ìadoptedî a tiger at the San Diego Zoo. The year after that, Maranda made a $1,000 donation to the Rancho Coastal Humane Society. She has always had a passion for helping animals in need and was inspired to donate to organizations that did just that. When asked what she loved about animals, Maranda simply stated, ìthey are just like us, they donít speak, but they understand youî.
Inspired by her four-year-old Cavalier Spaniel named Missy, Maranda began to design Holiday bottles to raise money. She adds lights inside each bottle to give them a personal, decorative touch. With the help of a co-op group of women in Armenia who hand knit the fun bottle toppers, as well as help from The Bridges in Rancho Santa Fe who donate the recycled bottles to Maranda, she has been able to make over one-hundred bottles.
Maranda chose FACE as her organization of choice for the second time in a row this past year. The Foundation for Animal Care and Education (FACE) saves family pets by providing access to life-saving veterinary care when their owners are unable to cover all or part of their urgent medical care expenses. FACE acknowledges and thanks Maranda for her encouraging and moving acts of kindness and selflessness. Executive Director, Stacy Steel, comments, ìI have never met a more driven and passionate young individual with as much charisma and dedication to animal welfare as Mirandaî. When asked why she chose FACE, Maranda explained, ìI thought about how terrible it would be if Missy got hurt and we couldnít afford itÖsheís like a sister to meÖI would be really grateful if someone donated money to save herî.
Maranda raised over $1,500 for FACE in 2009 by creating roughly 45 personalized bottles. This past 2010 Holiday Season, Maranda raised a remarkable $3,880 selling around 60 of her homemade decorative bottles and other items to benefit the FACE Foundation. She plans to expand her project even further this year and create not only holiday bottles, but bottles that can be displayed any time of the year.
Marandaís inspirational project will hopefully inspire others to get involved in a charity they care about. You donít have to be an adult to make a difference in a personís or an animalís life. You can be twelve-years-old with a passion to help others, even total strangers.