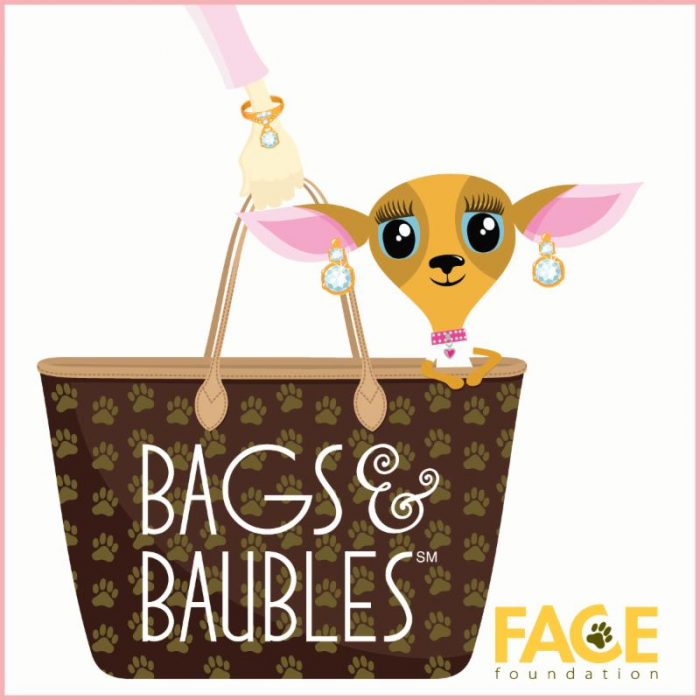 1st Annual Bags & Baubles a Howling Success!!!
On Sunday, May 1st, the FACE Foundation held a silent auction of new and ìgently-lovedî designer handbags at a private estate in Rancho Santa Fe. Attendees turned their fabulous fashion sense into dollars and cents for the FACE Foundation, supporting pets in dire need of life-saving veterinary care. Mothers, daughters, spouses and friends were all invited to this elegant affair. Over 180 gorgeous handbags were auctioned off to the 125 attendees, raising $21,088 to save pets and help families. With the opportunity drawing, the First Annual Bags & Baubles raised over $40,000.
While people bid on Bags and Baubles, they were treated to wines by Cougar Vineyard and Winery and tempting foods from various local sponsors. Special activities catered to even the youngest of the fashion savvy. Hair tinseling and crystaling were offered by three skilled local hairdressers.
Another attraction of the event was meeting some of the pets that have been saved by the FACE Foundation and hearing the stories of the families behind the pets. Attendees enjoyed hearing the stories that were made possible by events such as Bags and Baubles.
Thanks to generous donations, Bags and Baubles was able to avoid purchasing any goods or service, having all proceeds from the silent auction and opportunity drawing go to the FACE Foundation to help more pets. All attendees were given a gift bag with goodies from all of the sponsors to take home and enjoy long after Bags and Baubles concluded.
See more pictures and 'Like' our Facebook page as well!