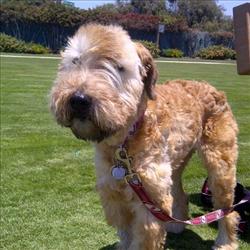 Mookie
IN MEMORY OF MOOKIE "BIG BOY" SCHREIBER
Mookie, a Soft-Coated Wheaten Terrier, was born in 1998, most likely in a "puppy mill". Fortunately for him, he arrived at a pet store in New York City, where my daughter fell in love with him and brought him home. For two years he was her special boy, but her work obligations made it impossible for her to keep him. So he came to live with us in California. Needless to say, he had his problems – mostly separation anxiety. But he loved people, loved to go for a 3-mile run and was a happy, healthy boy (provided we didn't leave him alone). He came to work with me – and endeared himself to everyone there.
Fast forward 12 years. In September 2011, Mookie was not himself. He didn't complain, but my husband knew there was something wrong. A quick visit to our vet showed that he was bleeding into his abdomen – his spleen had ruptured from a cancerous tumor. A rush to the Veterinary Specialty Hospital and an emergency spleenectomy revealed hermagiosarcoma. He pulled through the surgery and we decided on chemotherapy to combat the disease. After 5 rounds of chemo, he had lost most of his beautiful hair. But he never lost his spirit.
Three months later he was declared cancer free. He was strong and healthy and his hair was growing back. Although he remained on post-chemo medications, in early April 2012 he again was not himself. A rush to VSH determined that he again was bleeding into his abdomen – this time from 2 lesions on his liver. Again emergency surgery, but our boy was such a fighter that he came home the next day! Another amazing recovery, new oral chemo drugs and subsequent clear ultrasounds.
But something else was happening . . . in mid-June he seemed to be having problems with his legs. Exams showed nothing. But by early July he appeared to be in pain. The wonderful doctors at VSH put him on pain meds, but he just got weaker. On July 16 we rushed him to VSH because he was in pain and couldn't stand on his own. His condition deteriorated overnight and, on July 17 we made the painful decision to put him to sleep. After his passing, the neurologist determined that he had developed cancerous lesions on his spine and a tumor that was pressing on his neck area.
We know he is at peace. We did everything for him and he responded with love. We will always miss him, but know he is in a better place and has finally met the two other Wheaten we had loved. We are so grateful to the wonderful doctors and staff at Veterinary Specialty Hospital for all the love and care they gave to our boy.