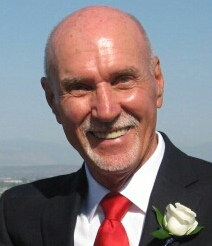 Max Jennings
Max Jennings is a native of Louisville, Kentucky and a graduate of Eastern Kentucky University. After college, Max moved to Munich, Germany to attend the 1972 Olympics and remained for five years to follow his passion for mountain hiking and snow skiing, working as a ski patrolman on the Swiss Ski Patrol in Zermatt, Switzerland. In 1992, Max fulfilled his passion for the mountains by trekking to the Base Camp of Mount Everest, Nepal.
Upon returning to the U.S., he spent the next 20 years serving the Hospital Corporation of America as Director of Patient Business Services, University of Miami Medical School, Department of Ophthalmology, Bascom Palmer Eye Institute/Anne Bates Leach Eye Hospital. He was also spent 10 years employed by urologists in Florida and continued working with urologists in California for another 15 years after his retirement.
Max has been involved with FACE for three years and also spends much of his time doing volunteer work as a Guest Ambassador at the San Diego Zoo and as an Adoption Counselor Assistant at the San Diego Humane Society. An avid animal lover, Max and his life partner, Alan, share their Soledad Mountain Home with seven turtles.