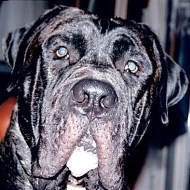 Rambo
VALENTINE'S DAY is all about love… and BIG hearts! FACE was able to help fund this handsome Presa Canario's life-saving heart surgery just in time for him to celebrate the holiday with his family. Thanks to his healthy heart he was able to send us the sweetest note – quite a clever boy! It made our heart go pitter-patter…
Thank you for making my heart surgery a possibility. If it weren't for you, who knows how I would be feeling right now. Because of your foundation, I was given a second chance at life. And we all know I have many more years to enjoy since I am only 3! My parents have been showering me with hugs and kisses. And when my Mom thinks about your foundation and what it has done for us, she still cries tears of joy! My brother is also very thankful for FACE as well and cannot wait to run and play with me again.
I am a big, strong boy with a big,
strong heart- thanks to FACE.
Love, Rambo