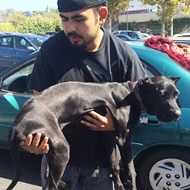 Pandora
Meet Pandora! This lovely lady got into a little mischief one day while playing out in the yard. Her family came home to find her painfully limping next to a pile of wooden planks. By the looks of things, they suspected that the planks must have fallen on top of her so they immediately rushed her to the hospital.
When they arrived, the doctors determined that not only was Pandora suffering from injuries to her legs and hips, but also suffered from a serious neck fracture! The doctors recommended surgery right away, but Pandora's "dad," who has been struggling to find work, had no idea how he was going to afford all of these medical costs.
With their options running out, the staff at Pet Emergency and Specialty Center (PESC) suggested they give it one more shot. They gave them the number to FACE and the rest was history! Pandora was awarded a grant, received the treatment she needed, and finally made it back home to her family safe and sound.
Here is a little note found from Pandora's doctors, "She is a sweet girl and we wish her the best!"