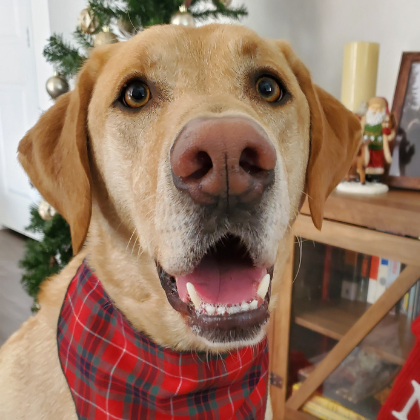 Oscar
"The last week has been one of the most emotionally exhausting weeks for me in a long time. Oscar has been in my life for the last 4 years. With my husband gone so much Oscar has been the smiling face I've come home to. No matter if it was a bad or good day I love getting to come home to him and hanging out, playing fetch, or lying in bed snuggling with his favorite toys. So when my perfectly healthy dog got a collapsed lung last weekend my heart shattered. The veterinarians had no idea why and we didn't know what would happen next. Although he improved some the first few days he needed surgery. Which without pet insurance was something we simply could not afford.
Our vet at VCA put us in touch with a local nonprofit, the FACE Foundation. FACE was able to help us with the cost of Oscars surgery and we are unbelievably grateful for their help in getting Oscar home. Although Oscar has a few tough weeks ahead of recovery, even with him not at his best he is wagging his tail and lighting up when he sees us at home."
-Testimonial from Oscar's family
This Marine family remained whole thanks to support from our friends at Ruggable. In 2020, Ruggable partnered with FACE to sponsor 16 family pets!