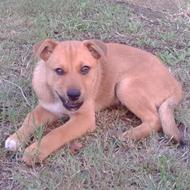 Myles
Myles is young, charming pup who was recently adopted by his owner. It did not take long for the two to fall in love! Myles' owner is a disabled veteran and first-time dog owner, who was thrilled to have found such a loving pup. Just one month after his adoption, this excitable little guy jumped off the back porch and fractured his hip. Myles' owner was so sad that this happened to his new friend and knew surgery was not something he could afford.
Thankfully, he reached out to FACE and we were able to help with the procedure. Myles made a swift recovery and now continues bringing a smile to everyone he meets!
'I cannot express enough gratitude to the FACE Organization for what you all have done for me and my Myles,' says his owner. FACE could not be happier that Myles got a second chance at life and a loving home with his proud new dad!