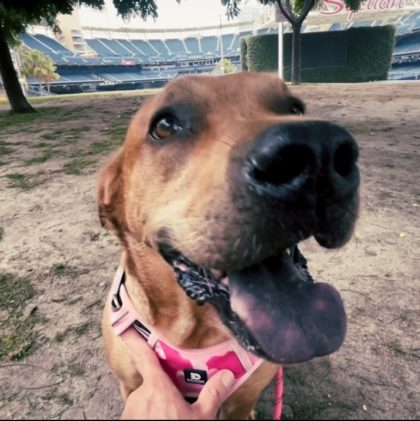 Luna
Luna was found lost, wandering the streets earlier this year. She was adopted by her "dad" quickly after and they have become fast friends.
Luna has a sad past – she had clearly been abused, with scars all over her body. Based off the calluses on her legs, she probably slept on concrete her entire life and never had a bed of her own. That quickly changed when she was adopted – she now snuggles with her dad every night on their bed!
Unfortunately, no one knew about the extent of Luna's health problems when she was adopted. The vet told Jared that Luna was either beaten so severely or sustained such great trauma that she suffered serious internal injuries, including a herniated diaphragm that had been slowly tearing apart from the inside for years. She was also born with a hole around her heart, which caused serious damage to her surrounding organs. She needed emergency surgery to survive.
Unfortunately the emergency expenses were just too much for Luna's dad to take on. After getting as much help as he could from family and friends, he reached out to FACE for assistance. We provided funding to get Luna her life-saving surgery. She's now back at home, living her best life!
Special thanks to Life Sponsor Ruggable for helping to save Luna.