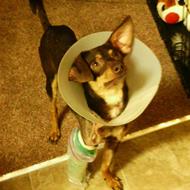 Jackson
Jackson is an adorable 6 month old Chihuahua mix who lives with 4 human brothers and sisters and a ìmomî who love him very much. Jackson was found as a stray when he was just a puppy. He was very cautious and his owner suspected he may have been abused or severely undersocialized. Despite not having the best start to life, Jackson acclimated to his new family and soaked up the love like a sponge!
Unfortunately, he got into a bit of trouble and fractured his leg when he was left alone one day. Without the funds to be able to afford repair for his broken leg, Jacksonís family was devastated. They considered surrendering him to the Humane Society, knowing that he would get the care he needed there, but were in agony about losing him after he had already found the perfect loving home.
Thankfully, Jacksonís family heard about FACE. After reaching out to share his story, a grant was provided to Jacksonís treating hospital and they were able to move forward with the surgery.
A special note from Jacksonís mom:
ìJackson's surgery was a huge success (thanks to you and many others) and he is recuperating really wellÖIt's hard on the kids not being able to play with him, but they understand how important it is for him to remain off his leg as much as possible.î