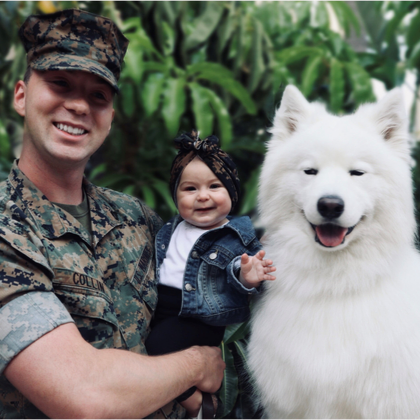 Fenway
Fenway, pictured here with his family has the very important role of being a prescribed Emotional Support Animal for his dad. His role is very important to the family, especially now as his dad prepares for a career change and the family prepares for a cross country move. Recently, Fenway got really sick after eating a wooden toy and a pacifier. He needed emergency surgery to remove the items and save his life but it was expensive, more than his family could afford. With nowhere else to turn, Fenway's family reached out to FACE for help. Thanks to our supporters and a generous discount from Animal Emergency Clinic of San Diego, FACE was able to provide funds to help pay for Fenway's lifesaving surgery.
"We could not be more thankful for the generosity, compassion, and blessing you have provided our family." -The Collin Family
A special thanks to Life Sponsor Hooters, who helped this family stay together.