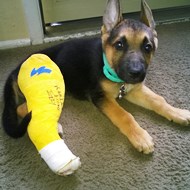 Dre
Meet our FACE success puppy Dre!
Dreís owner is a former Marine who adopted Dre for the special companionship that only puppies can offer. The two were enjoying getting to know each other. However, at 2 months old, Dre was still trying to get the hang of walking and he took a huge tumble off of the couch.
His owner was devastated that sweet Dre had suffered a painful injury and so early in their relationship! Dreís owner was in-between odd jobs and could not afford the expensive surgery needed to fix Dre's leg. He wished he could do more and began looking into options to help Dre in any way possible. Thatís when he reached out to FACE for help.
FACE was able to work with Dreís owner to cover the cost of the surgery, saving Dreís leg and keeping his puppy attitude intact! Thanks to his ownerís dedication and some help from FACE, Dre is now growing into a happy, healthy dog who continues to be a constant companion and friend.