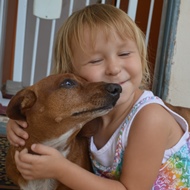 Chili
Meet Chili! Some of you may recognize this adorable Doxie from FACE promotional material…who could forget that face! Back in 2009, Chili was diagnosed with IVDD and was faced with becoming paralyzed if an emergency back surgery wasn't performed right away. Chili's owners were devastated when they realized what their boy was up against. They were strapped for funds after the birth of their first child, and could not afford the surgery that was needed to save his life. Thankfully, FACE Save-a-Life Partner Veterinary Specialty Hospital had them contact FACE, who was able to assist with the surgery! Here is a lovely update from Chili's mom about her experience with FACE and how Chili is doing today:
When my husband and I came home from the hospital with our first child, we were heartbroken to find that Chili had a herniated disc in his back.  We couldn't bear the thought of bringing home one family member only to lose another!  Chili was our first pet and our only baby for so long.  When we took Chili to UC Davis Veterinary Specialty and Emergency Hospital, our daughter was just a few days old and poor Chili, unable to use his hind legs, still acted as our protector, not allowing anyone to come near our new baby. Chili's loyalty and dedication to our family even when he was suffering made the thought of losing him even harder, that's when we were notified about the FACE Foundation, an amazing grant program that donated funds to us and allowed us to afford Chili's surgery. Shortly after Chili's surgery he was on his way to being the healthy and happy pup we knew. Today, Chili lives happily with us at home, and it's all thanks to the FACE Foundation for saving Chili's life!
Thank you to all the wonderful donors and FACE partners who make saving lives possible.
Chili, October 2007 after surgery.