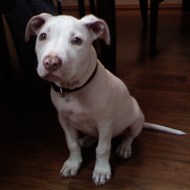 Local Marine Seeks Help to Save his Best Friend
Daisy, a sweet American Bulldog mix, needed surgery immediately. At only 1 year and 4 months, she is the heart that a local family revolves around. Her owner Sean, a San Diego native, is a Marine who has served multiple tours overseas. He returned from Iraq on December 17th, a week after his first child, a daughter, was born. Upon his return, he was unsure whether or not he would have a family waiting for him; the pregnancy was high-risk, and both mom and baby were almost lost. Luckily, they are now doing just fine; 2011 was off to a beautiful start.
Soon after, Seanís grandmother, a Leukemia survivor who lives with the family, fell unconscious behind the locked bathroom door of their one bedroom apartment. With Daisy by his side, Sean broke down the door to get to her. She was hospitalized, and Daisy spent the night next to her empty bed, hoping for her return.
The following day, as Sean was preparing to visit his grandmother in the hospital, he walked Daisy outside. In the blink of an eye, she saw a ball down the street and went after it; Daisy was hit by a truck. Sean was forced to watch as Daisyís body was dragged under the vehicle. Miraculously, none of the tires crushed her. She was alive, but badly injured.
Sean frantically got Daisy into his truck, where he kept talking to her in order to keep her awake and conscious. He arrived at the animal hospital and pleaded with the vet, ìDo whatever you have to do to keep Daisy alive.î After an initial $2,000 payment, Daisy gave him a weak tail-wag as she fell under sedation and headed into her first round of surgeries.
ìNo matter the cost, I will give all that I haveî Sean said, ìI want her to be able to run and jump like she used to, because I know she loves that. I donít want her to be in pain. I love her and she loves me unconditionally.î
Worried about his best friend, Sean posted an announcement on Facebook, asking his family and friends to pray for Daisy. This prompted his friends to gather together and generate another $2,500. Unfortunately, the $4,500 Sean has worked hard to contribute is only a fraction of what Daisy needs to survive. Now that she has stabilized, she needs surgery to repair her broken bones. FACE helped with the surgery.
After eight years of serving our country, Sean needed help from his community to save his best friendís life. The FACE Foundation, a San Diego nonprofit that provides financial assistance for life-saving veterinary care, is assisting Sean and Daisy. Local Del Mar residents and donors to the FACE Foundation, Peri and Peg Urvek have offered to pay the entire bill. FACE hopes that by sharing Daisy and Seanís story other pet-loving people in the community will help them save other family pets. FACE has a monthly budget of $17,500 available for funding. This month alone they have already donated almost $30,000 to save family pets needing medical assistance.
Daisy is currently recovering and is happily reunited with Sean and the rest of her family!