June is Adopt a Shelter Cat Month: Ways You Can Help
Did you know that June is Adopt a Shelter Cat Month? The warm weather means kitten season, and animal shelters and cat rescue groups are full of homeless cats and kittens just waiting for their forever home. What can you do to help spread the word about adopting shelter cats? Here are some great public awareness tips to get started.
Social Media Campaigns
Use your Facebook and Twitter accounts to tell your friends about adopting a shelter cat. Update your Facebook status and tweet the message that adopting a shelter cat this month will save lives.
Don't forget about using your website, blog, and Pinterest account to spread the word about Adopt a Shelter Cat Month, too.
Volunteer
Contact a local shelter or rescue group in your area and ask about volunteer opportunities. Have a few hours to spend socializing shelter cats or staffing an adoption event at a local pet store? These great organizations would love your help. You can also use your photography and writing skills to take pictures of adoptable cats and create kitty bios for the organization's web page.
Donate
Shelters and rescue groups always welcome donations large and small. Donate money in honor of Adopt a Shelter Cat Month or as tribute to a particular cat who is special to you. Cat food, kitty litter, litter boxes, toys, towels, carriers…you name it, there's an organization in need of all kinds of cat supplies near you. Many shelters and rescue groups also need things like surgical scrubs and office supplies. How about baking some cookies for the hardworking staff at your local shelter?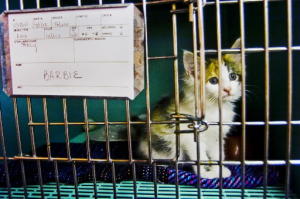 Educate the Next Generation
Talk to children about the importance of pet adoption, spay and neuter, and being kind to animals. You can work with a local shelter or rescue group and bring a cat or kitten to a cat-themed story time at the local library, a scouting or church kids' group event, or even the local elementary school…with permission of course!