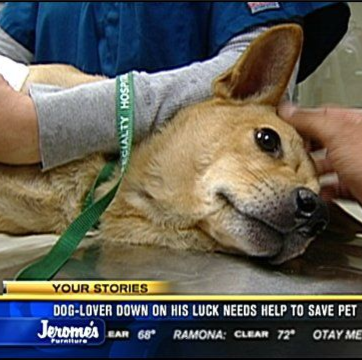 FACE featured on Channel 8 news! Saving Sitka
Meet Sitka… Sitka is a 6 year old lab mix who received life saving surgery thanks to the FACE Foundation. His story was featured on CBS News
Sitka's owner Mark is currently homeless. He lost his job in May of this year and went from making $90,000 per year to living on food stamps. Sitka means everything to Mark and is like a child to him.
On September 4th Mark was walking Sitka outside when a dog 'ran out of nowhere' and attacked Sitka. Mark fought off the attacking dog, but Sitka's right front leg was badly mauled. He was able to put together enough money to take Sitka to the vet where Sitka was given pain management, antibiotics and his leg was wrapped. Sitka was supposed to go to a veterinarian the following day, but Mark could not afford to have Sitka's leg fixed. He thought at the time that it might even need to be amputated.
Fortunately Mark found the FACE Foundation. Thanks to our donors, we helped Sitka get the surgery he needed to repair his fractured leg. We are seeking donations to help us pay for Sitka's surgery, which is approximately $3,500. With your help, this can turn from a tragedy into a heartwarming story of hope, the healing power of love, and how much good one small animal non-profit can do in our community…
Thank you for helping us 'Save Sitka'…..