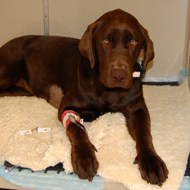 FACE Donors Help Oklahoma Pets
The FACE Foundation reached out to its supporters last week to assist pets injured by the tornado that devastated regions of Oklahoma on Monday, May 20. According to the Lost and Found Tornado Pet Identification of the OKC Metro Area, approximately 300 pets are still marked as ìlost,î and many have been found critically injured.
In an effort to help injured animals, volunteers have been transporting them to a few veterinary clinics that are still working tirelessly to care for and treat these animals. Since FACE provides financial assistance for San Diego pets in need of life-saving medical care, they felt driven to take action. ìWe were compelled to help families and save pets impacted by this disaster,î states Stacy Steel, FACE Executive Director. ìThe tornado victims have already lost so much, we knew we had to help in whatever way we could.î
Through the generosity of the San Diego community, FACE was able to raise nearly $6,000 on behalf of the animals in Oklahoma. They donated 100% of the funds raised to the Bella Foundation and the Oklahoma State University Veterinary Program, where injured pets are being treated.
In an email to FACE, Heather Clay, Director of Development at the Oklahoma State University Foundation, stated that animals are still being brought into their facility daily. Dedicated veterinarians and volunteers are working diligently to provide care for the injured animals, free of charge. ìIt is the outpouring of support from people like you that gives us encouragement every day,î she said.
FACE would like to thank those who contributed to their Tornado Relief Fund. At this time, the Foundation has resumed fundraising for their local mission, to save the lives of San Diego pets facing ìeconomic euthanasia.î To date, they have given over $1,100,000 to save the lives of over 700 family pets. For those who would like to support the cause, please visit our donation page.