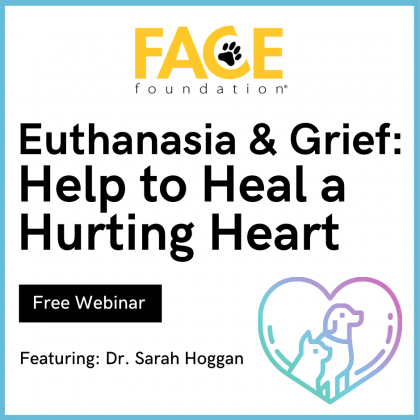 May 29th, 3-4PM, Online Webinar and Support Group
Pet loss is hard, and processing this pain can be extremely difficult. To help ease this grief, FACE is offering an interactive online live webinar called: Euthanasia & Grief: Help to Heal a Hurting Heart.
On May 29th, join FACE's President and Co-founder Cini Robb and Dr. Sarah Hoggan, Medical Director of VCA California Veterinary Specialist in Murrieta to talk, listen, and understand why the loss of a pet and euthanasia decisions are so hard.
About Dr. Hoggan: Dr. Sarah Hoggan has been an emergency veterinarian for 17 years with VCA California Veterinary Specialists. In 2019 she had the opportunity to share her emotional expertise in a TEDx Talk, explaining why euthanasia is so difficult. Topics covered will be: the reality of grief, feelings of loss, emotional echoes, difficult euthanasia and how to heal.
Registration link: https://events.r20.constantcontact.com/register/eventReg?oeidk=a07eh2p338662ae63cc&oseq=&c=&ch=