Dog Mountain: A Paradise for Dogs and their People
You may recognize the distinctive artwork of Stephen Huneck, known for woodcut prints inspired by his beloved Labrador retriever Sally. But did you also know that Stephen and his wife Gwen created an amazing place for dog lovers and their pets called Dog Mountain?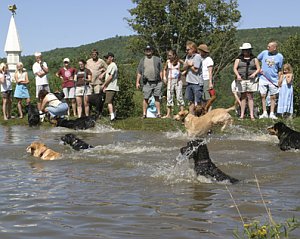 Dog Mountain, located on 150 acres in St. Johnsbury Vermont, was created by Stephen and his wife in the 1990s. Dogs are always welcome here, and the place is full of hiking trails and dog ponds for dogs and their humans to explore. You can look at wildflowers in the summer and go snowshoeing in the winter. Dogs are free to run, play, and swim unleashed.
Dog Mountain is also home to the unique Dog Chapel, created by Stephen as a place where dog lovers can go to find healing and closure after the loss of a beloved pet. Dog Chapel contains dog-themed stained glass windows, pews with carved dogs, and most amazingly, is covered with photos of visitors' dogs, and their notes of remembrance.
To learn more about Dog Mountain and Dog Chapel, click HERE.