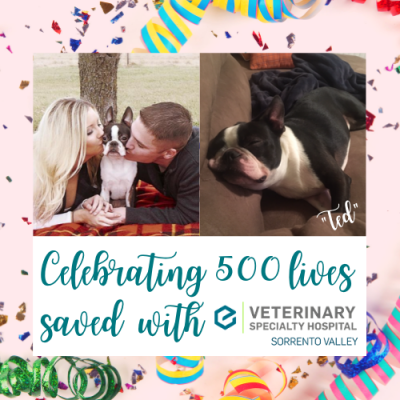 Celebrating 500th Life Saved at Veterinary Specialty Hospital Sorrento Valley
FACE Foundation is celebrating its 500th life saved at Veterinary Specialty Hospital in Sorrento Valley. Our 500th grantee is a beloved pup named Ted who was at risk of losing his ability to walk, and potentially, his life.
Just 10 days after Brooke and Dallas welcomed their first baby into the world, the unexpected happened. The couple's fur-baby, a 5-year-old Boston Terrier named Ted, was rushed to the vet hospital in pain and unable to walk. The doctors at Veterinary Specialty Hospital diagnosed him with IVDD – Intervertebral Disc Disease, a degenerative illness that damages a pet's spinal cord over time. Left untreated, IVDD can leave a pet in extreme pain and unable to walk for the rest of their life, often resulting in euthanasia.
Dallas, a member of the Marine Corps, was preparing to deploy when Ted began showing signs of this heartbreaking condition. With limited resources and a newborn at home, the couple knew they didn't have the funds to pay for Ted's emergency surgery – but they just couldn't give up on getting him help. That's when FACE Foundation stepped in. The Foundation for Animal Care and Education (FACE) serves as a beacon of hope for San Diego County pets experiencing life-threatening illnesses, just like Ted. Dallas says, "He was our first child and I just couldn't imagine life without him."
Thanks to the generosity of donors and veterinary hospitals like Veterinary Specialty Hospital, FACE was able to provide a financial grant to help Ted get the surgery he needed to walk again. He is now back at home with his loving family – exactly where he's meant to be. The couple say, "We truly felt like it was a miracle to be introduced to the FACE Foundation at this time and point in our lives. Thank you from the depths of our hearts."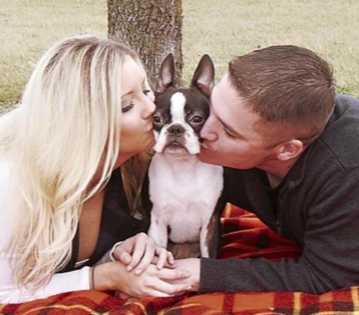 About FACE Foundation & Veterinary Specialty Hospital Sorrento Valley
FACE Foundation was created in 2006 to combat the problem of "economic euthanasia" – the tragedy that occurs when pet owners are forced to euthanize their beloved companion animals because they cannot afford emergency veterinary care. FACE strives to save lives, reduce economic euthanasia, and increase the wellness of San Diego's pets. FACE has saved the lives of over 2,378 local pets by providing financial grants in partnership with over 166 veterinary partners throughout San Diego County to pet owners in need.
Among these partner hospitals is Veterinary Specialty Hospital in Sorrento Valley, which has been a FACE Save-A-Life partner since the organization's inception and has played a vital part in the growth of the organization's programs. FACE Foundation's partnership with VSH has expanded greatly over the past 13 years; the first year of the program resulted in 15 lives saved, and now the hospital averages around 40 grantees a year. VSH also takes part in many of FACE's fundraising programs, from sponsoring the organization's annual events to being the host site of the Tree of Life, a beautiful mural which donors can have their pets' name or portrait painted.
Now celebrating 500 lives saved at Veterinary Specialty Hospital through FACE's Save-A-Life program, FACE Foundation thanks the doctors and staff for their dedication and passion to saving pets and helping families.
Help save a pet in need by calling 858-450-3223 or donate here.