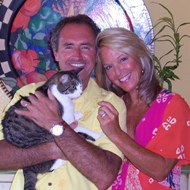 Boston Red Sox Hall-of-Fame Center Fielder Fred Lynn and Mars Chocolate North America Donate $5,000
Former Boston Red Sox and San Diego Padres star Fred Lynn and Mars Chocolate North America have partnered to donate $5,000 to local animal welfare organization the Foundation for Animal Care and Education (FACE Foundation).
On August 2nd, 2011, the Boston Red Sox, playing at home at Fenway Park and as part of a charity promotion with Mars brand CombosÆ, staged a pitching competition with the CombosÆ Vice President of Sales Timothy Lebel. Depending on Lebelís pitching accuracy, one of two charities would receive a $5,000 donation. Lebelís pitch soared over the home plate, and former-Red Sox player Fred Lynnís charity, the FACE Foundation, was the lucky recipient of the Marsí donation.
Fred Lynn and his wife, Natalie, are passionate animal lovers, and staunch supporters of the FACE Foundation. Both are ìhonoredî to have secured such a generous donation for their charity. This gift will directly save the lives of local family pets facing ìeconomic euthanasiaî.