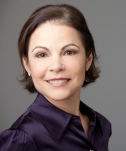 Dr. Wendy Khentigan
Wendy A. Khentigan, M.D. is a psychiatrist in private practice in Encinitas since 1994. She graduated from New York Medical College and completed her residency in psychiatry at the University of California San Diego. She is a Distinguished Fellow of the American Psychiatric Association and is board certified by the American Board of Psychiatry and Neurology.
She is a lover of all animals but holds a special passion for cats, large and small. She is a long-time supporter of several animal welfare groups. A special interest is the bond between animals and people. She has spoken on the topic of Compassion Fatigue within the animal welfare community.
Her family includes three cats: Bella, Coco, and Dexter, all siblings adopted at the same time. Her volunteer work within the animal welfare community is dedicated to the memory of Tigger, Whiskers, Dart, and Camille. "What greater gift than the love of a cat?" Charles Dickens
"My background is in mental health, and I have a unique perspective on the relationship between humans and their pets. I am witness to the debilitating grief that a pet owner faces when they must consider euthanasia in circumstances where the quality of life of the pet is not expected to improve or potentially deteriorate. Economic euthanasia occurs when a pet owner can't afford a life saving treatment and the decision is made to put the pet down. Economic euthanasia adds additional emotional burdens and trauma to a pet owner who may be facing hard times as well as the potential loss of their beloved pet and family member.  The human animal bond is special and unique. The grief that a pet owner experiences can be more complicated due to this special bond.
Our community is making great strides in placing animals out of shelters and for this I am hopeful about the future. However, an overlooked need in the animal welfare community is for resources for those owners who very much want to keep their pet but may not have the resources to fund extensive surgeries/procedures if their pet has an accident or develops an acute condition which may be fatal if not treated. FACE Foundation is unique in that it provides exactly this financial resource through collaboration with veterinarians, animal hospitals, donors and pet owners to prevent economic euthanasia. It is very rewarding to hear the families share their stories and describe how FACE Foundation has had an impact on their lives. It is an honor and a privilege to be associated with the FACE Foundation and the important mission of preventing economic euthanasia in our community."