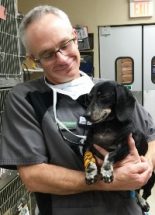 Dr. Brian Loudis
Dr. Brian Loudis has been a practicing veterinarian for 16 years. After receiving his DVM from Colorado State University in 1990, he moved to San Diego to work at a busy small animal clinic.  A three-year residency followed at a hospital specializing in Avian and Exotic Medicine.
After spending several years working with a diverse group of patients and veterinarians, Dr. Loudis became board certified in Avian (bird) medicine. Fewer than 150 veterinarians in the country hold this certification. Dr. Loudis uses his specialty both in clinical practice at All Pets as well as serving as a professional veterinary consultant for the nation's largest animal clinical laboratory where he helps other veterinarians interpret laboratory data.
In 2000, Dr. Loudis accepted a one-year position as an associate veterinarian at the San Diego Zoo. This opportunity enabled him to work with many unusual and exotic animal species.  His stay at the zoo also allowed him to learn state of the art diagnostic, dental, and orthopedic procedures.
Upon completion of his sabbatical, Dr. Loudis chose to fulfill his dream of opening his own unique veterinary practice.  After many years of planning, All Pets Animal Hospital was opened in 2001. It was founded with the goal of making it one of the finest general practice clinics in San Diego County.
In 2015 All Pets Animal Hospital partnered with FACE to offer a free dental clinic for FACE grantees! Dr. Loudis and his staff worked for ten hours providing cleanings to eight FACE Success Stories.
Dr. Loudis lives in Carlsbad with his wife and three children.  They share their home with many animal companions including two dogs, two cats, two tortoises, a toad and a bearded dragon. In his spare time Dr. Loudis enjoys surfing, mountain biking and playing with his kids!