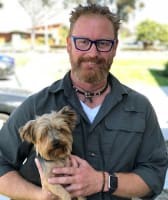 Corey Cole, D.V.M.
A San Diego native, Corey joined Lifetime Animal Hospital in September 2017 as an experienced & motivated veterinarian with a unique education and clinical background. He graduated with honors from UC Davis in 2005 and then spent two years in advanced training at the Veterinary Specialty Hospital in Sorrento Valley. After a rotating internship at VSH, Corey spent another year of intensive training in critical care, emergency, anesthesia, and pain management in an ICU setting.
He then spent over 5 years as an associate veterinarian at the San Diego Humane Society, where he developed his skills in internal medicine and surgery, including many advanced soft tissue and orthopedic surgeries. Corey is also experienced, trained, in ultrasound and endoscopy.
While serving as a Clinical Assistant Professor with Western University, he mentored students during their external rotations and led the organization of a shelter medicine internship at San Diego Humane Society, mentoring two intern classes during his time at the shelter. Corey is also involved with high-volume spay and neuter organizations in the San Diego Area.
In his spare time, Corey enjoys spending time with his family, including dogs John Wayne & Karma and also enjoys playing golf and softball, and loves gardening and relaxing at the beach.