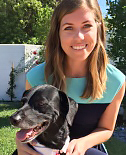 Brooke Haggerty
Brooke has over a decade of experience in the nonprofit sector and has dedicated her career to animal protection. She has an M.A. in Human Behavior, a B.A. in English, and certifications in Nonprofit Management and Marketing. She is the Executive Director for Faunalytics, a nonprofit organization that empowers animal advocates with access to research, strategies, and messages that maximize their effectiveness to reduce animal suffering.
Brooke worked for FACE from 2011-2017, where she spent the latter half as our Executive Director. She left FACE to work for the Animal Protection and Rescue League on the 2018 statewide legislative campaign Yes on Proposition 12, successfully fighting to improve the living conditions for millions of factory farm animals. Her passion for FACE never waned and she is honored to continue to sit on our Board of Directors.
She is a former board member and programming chair of the Young Nonprofit Professionals Network (YNPN) of San Diego, and currently volunteers for San Diego State University's Aztec Mentor Program. Brooke is vegan, and loves reading, hiking, and traveling.